Toyota Camry: A Leader Among Midsized Cars
For years, the Camry has been recognized as one of the most adaptable midsized sedans available. Its reputation for responsive handling, fuel economy, appealing looks, and quiet ride are well-deserved, all at an amazing value. The cabin accommodates five within a comfortable interior, making long excursions and quick trips a delight. Toyota's safety technology keeps everyone on board safe and secure, and integrated tools allow for a variety of driver assistance and entertainment capabilities.
Once you're in the driver's seat, you'll experience the capable engine and smooth handling that make the Camry so much fun to drive. Its standard features provide infotainment options for excursions with family and friends, and smart tech makes navigating a breeze.
The Camry provides an excellent value for the price, and you may be surprised by how affordable it is to drive home in a new Toyota. If you're looking for a Camry or any Toyota near DeKalb, call or come see us at Toyota of DeKalb today.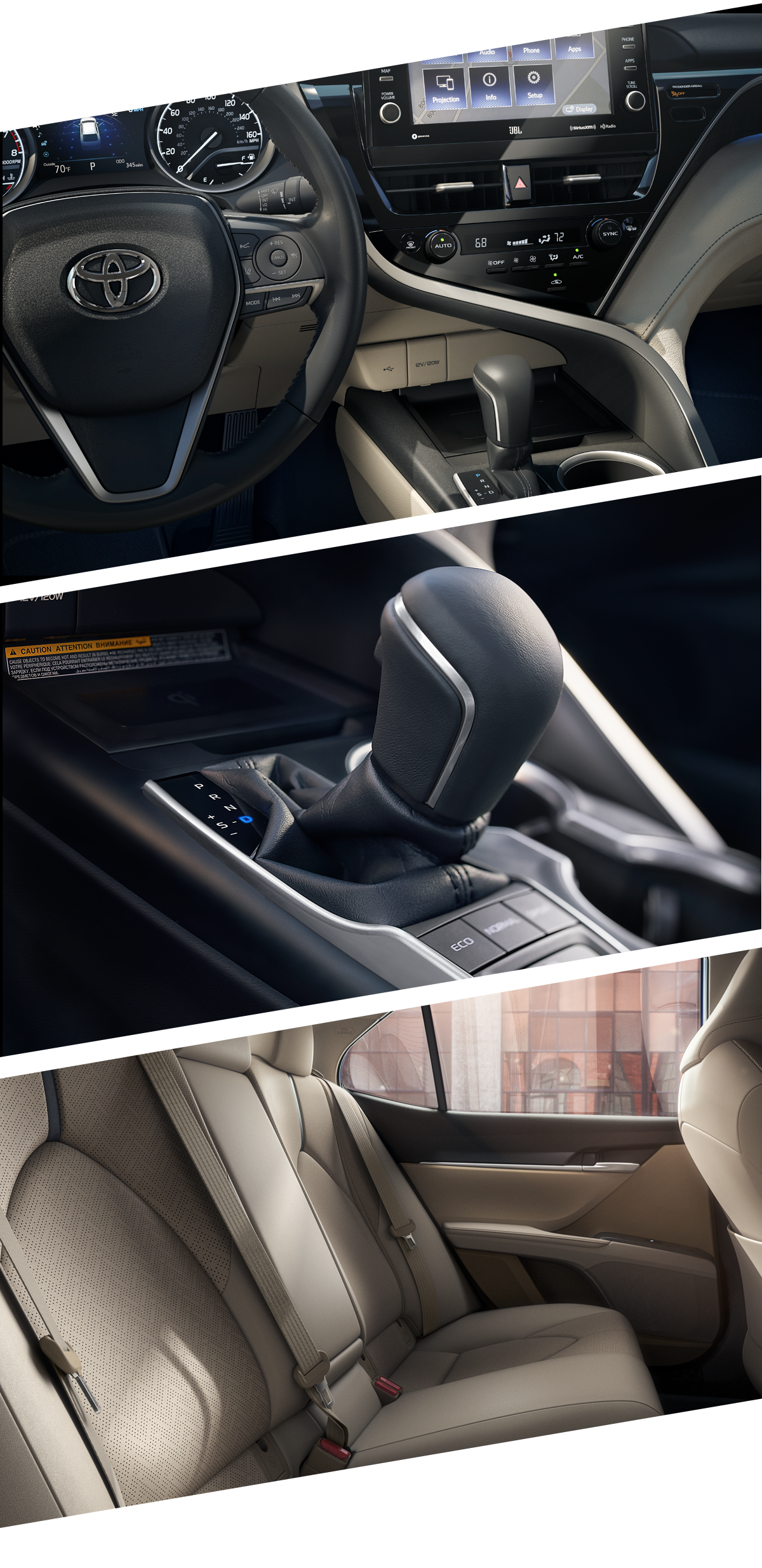 What's New With The 2021 Toyota Camry?
The Toyota Camry is an outstanding example of how practicality and style can blend into one remarkable midsize sedan! For the 2021 model year, the Camry gains an expanded array of standard features in its base trim. That gives you more value in your Camry right from the start of the lineup with things like a user-friendly infotainment system, a Wi-Fi hotspot, multiple audio features, alloy wheels, and a whole lot more. Step up to one of the four other trims to access even more fantastic features and amenities. The 2021 Camry keeps everyone onboard well protected, too, with the valuable bundle of advanced safety equipment included in the Toyota Safety Sense 2.5 bundle. There are also optional features you can add to round out your safety suite, including blind spot monitoring and a head up display.
The History of the Camry
The Camry premiered in North America in 1983, arriving with sedan and hatchback body styles. Prior to a thorough redesign in 1992, the Camry was a noticeably smaller vehicle, and would be seen as a compact by today's frame standards. Toyota released a coupe version that same year, and by 1997, the Camry had established itself as the top-selling car in America. The legacy carried on in 2002, when the next generation of Camry came off the factory line.
Toyota debuted a new style for the Camry once again in 2007, and the car has continued to adapt and change since then to stay current with driver expectations and desires. The Camry has always held its ground even as the automotive landscape evolved around it, and it continues to sell as one of the most popular midsized sedans on our roadways today.
Come See Us at Toyota of DeKalb
At Toyota of DeKalb, it's our job to properly prepare you when searching for your next vehicle. Our new and pre-owned Toyotas encompass a broad range of prices, trims, and models. Visit our online inventory or come by the dealership to browse our lot. You're bound to find the ride you've been dreaming of in our vast selection of cars, trucks, and SUVs. Whether you're looking for a winner among midsized sedans or any other Toyota model, our insightful staff will be standing by.
While you're here, we encourage you to ask about our financing options.