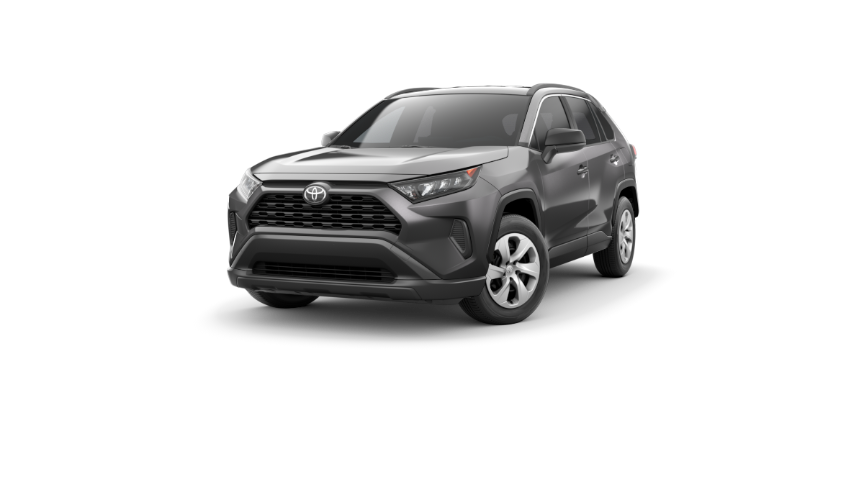 The Capable, Confident Toyota RAV4
In the ever-raging battle of the compact SUV, the Toyota RAV4 has never wavered as one of the strongest contenders.
Not only does the RAV4 give you the space, comfort, safety, and tech features that you want from your vehicle, it does so with the Toyota name behind it. If you're a newcomer to the brand, that means inherent value, impeccable engineering, and exceptional quality.
The RAV4 gives you a smooth and composed ride quality and ample space inside for both passengers and cargo. It also offers the capability and versatility to tackle any road condition with ease and confidence. If it's fuel economy you're after, you need look no further. The RAV4 delivers in a big way when it comes to efficiency.
And we've only just scratched the surface of all the great things about the RAV4. In order to get a true sense of everything this remarkable SUV can do, you'll have to check it out in person and take your favorite trim for a test drive. We invite you to do that at Toyota of DeKalb, where we have RAV4 models in stock and ready for you right now! The best part? All the vehicles on our lot are priced to sell quickly, and we even offer savings that go above and beyond to make your vehicle purchase extremely budget-friendly and rewarding.
Stop by today and see what we have in store. We can't wait to help you get the best possible deal on your ultimate vehicle.
What's New in the 2020 Toyota RAV4?
With the 2020 RAV4 being part of the fifth generation that came out in 2019, there is still lots to love about this year model. One thing Toyota RAV4 shoppers will appreciate is the addition of a new trim level: TRD Off-Road trim.
The 2020 RAV4's exterior is more striking than ever with its bold style designs. With sharp features and a wider base, the RAV4 holds its own with a rugged exterior look. 2020 RAV4 shoppers will also enjoy the optional modern two-tone paint schemes that give the model an eye-catching, edgy look.
Enhancements continue on the inside of the RAV4. Spacious and inviting, the cabin features a sleek and streamlined layout with plenty of soft-touch materials to enhance comfort. Cutting-edge technology equipment brings premium features like Amazon Alexa, Apple CarPlay, and now Android Auto compatibility.
A boost of safety comes thanks to the addition of standard Toyota Safety Sense 2.0. This bundle of advanced safety and driver assistance features can be found on all trims of the 2020 RAV4.
A Brief History of the RAV4
The Toyota RAV4 came on the scene in the late 1990s, as the driving public was beginning to clamor for SUVs of all shapes and sizes. The original RAV4 was smaller than it is today but still offered plenty of versatility and capability in a sporty package.
Since its debut, the RAV4 has constantly evolved and improved to keep up with changing driver needs and expectations. Technology features, safety equipment, space, efficiency, and performance have all seen updates and upgrades over the years, while one thing has remained constant: The Toyota RAV4 is one of the best compact SUVs available today.
Why Buy or Lease from Toyota of DeKalb?
If you're wondering why so many of your Illinois friends and neighbors trust our dealership above others in the area, we can shed some light on that. At Toyota of DeKalb, we offer a fantastic selection, low prices, and exceptional customer service – all in a concentrated effort to ensure that your experience at our dealership is enjoyable, easy, and rewarding.
Explore our inventory online and find the vehicles you'd like to take a closer look at. Then, when you're ready to test drive your top picks, head to our conveniently located dealership and claim a bargain price on the vehicle of your dreams.